Microgrid Solutions
Providing resilient, economical power
As the need for secure, resilient, and greener energy solutions increases, more and more businesses and communities are recognizing the economical benefits of distributed energy solutions as part of a broader energy management strategy. It is no wonder that the trend today is away from large-scale combined cycle gas turbine power plants. Smaller power plant projects offer lower CAPEX and high efficiency, and smaller, modular systems offer increased reliability and resilience.
What is a microgrid?
Microgrids are small-scale power generation and distribution systems containing loads, including thermal loads, and DERs such as distributed engines, renewable energy sources, and storage systems.
They can operate as an isolated system or with clearly defined physical and electrical boundaries when connected to the main grid.
Their size typically ranges between 0.1 and 10 MW, although they can be larger in industrial and commercial applications.
In the past, microgrids predominantly were used for grid access and backup power. Now and in the future, they are more focused on resilience and sustainable/economical alternatives to the public grid.
Check out our short video about microgrid example for Pennsylvania airport.
Typical microgrid scope
A typical microgrid scope has a dispatchable distributed energy resource (dDER), another energy resource such as a solar PV, and a storage system such as a battery energy storage system (BESS).
Development of local microgrids with a CHP solution, in addition to improving the reliability of power supply, also provides thermal power, increases total efficiency and allows to further reduction of the carbon footprint.
Common major drivers for creating local microgrids are:
need to improve the reliability of power supply or;
desire to get away from expensive centralized energy sources, especially during peak consumption hours or;
need to reduce the carbon footprint produced by the company / community through use of cogeneration as a more efficient way of generating energy compared to centralized sources or;
possibility of combining traditional local cogeneration using gaseous fuels with renewable energy sources.
Microgrids advantages

Renewable integration
With smart management of dispatchable DERs, such as engines and volatile DERs like PV and wind, microgrids can employ a wide range of renewable energy resources without compromising resilience


Peak shaving
Combined with a BESS, the microgrid can reduce peak loads by discharging the battery when demand is high and recharging when demand is low. Demand charges can be reduced. Peak shaving also enables deferral of grid infrastructure investments


Energy arbitrage
When the grid is connected, real-time price arbitrage can be an important revenue stream to improve economics and increase return on investment for the microgrid


Power reliability/islanding
The microgrid can disconnect from the grid in case of a grid event. While islanded, DER operation is optimized for resilience. Seamlessly synchronizing back


Spinning reserve
Stable island mode operation through dynamic spinning reserve management. Battery energy storage systems further increase fuel efficiency and reduce the CO2 footprint


Ancillary services
Microgrid supporting transmission grid by facilitating demand response programs as well as providing reactive power, frequency, and voltage control


Optimized self-consumption
Reduces energy costs when feed-in tariffs are low. Surplus energy from renewables can be stored and used when needed
The Jenbacher approach
The microgrid controller
Continuing the legacy of the already feature-rich Jenbacher master controller, INNIO Group's new Jenbacher microgrid controller integrates a wide selection of distributed energy resources (DERs) such as renewables and storage devices while ensuring high power reliability and plant uptime. 
Located on site, the controller is designed to maintain the stability of the microgrid including the DERs and loads in all operating conditions. In island mode, our microgrid controller supports its highest priority—power reliability—by maintaining frequency and voltage for any given load scenario, optimizing use of the connected DERs for maximum resilience to prevent an outage. In the unlikely event of a total outage, the Jenbacher microgrid controller and Jenbacher genset are black start capable.
myPlant Optimization
We further improve economics and optimize energy management by connecting the microgrid to the optional myPlant Optimization offering. This artificial intelligence (AI)-based solution takes a holistic approach, improving the operational efficiency of your entire plant portfolio—from engine and heat pump to heat storage and the photovoltaic system—while taking opera-tional requirements and annual targets into account.
Supported in selected countries only.
When reliable power supply is key
Gas engine solutions are especially relevant if your microgrid supplies energy where uninterrupted power is critical (for example – hospitals, data centers, process industries, etc.).
Jenbacher engines ramp up to full power output in just a few minutes, providing your microgrid with necessary power, when it is needed.
At the same time, Jenbacher engines can be more environmentally friendly than diesel engines, due to generally lower emissions. That´s why gas engines are often used in microgrids with CHP solutions due to increasing environmental requirements. Jenbacher solutions offer fuel flexibility with engine versions that can handle different gas qualities. Also, they are suitable for high ambient temperatures and elevations.
Since Jenbacher engines run on gaseous fuels, they can dynamically start up when needed to produce energy during peak hours. In many cases, compared to the industrial gas turbines, gas engines are less sensitive to frequent starts and stops. As a result, the client gets the necessary maneuverability to operate in "peak-shaving" mode.
Optimize your energy expenses
Many grid clusters on the North American continent have dynamic electricity price levels, and of course there are certain seasons of the year and hours of the day when the cost of centralized energy peaks. In many cases, these spikes seriously increase the operating costs for consumers. The use of power generation with gas engines and renewables resources in microgrids lowers and allows better prediction of energy-related costs.
Advantages of  Co- & Trigeneration
Jenbacher cogeneration solutions by the INNIO Group are used by our customers across the globe, powering applications in variety of economic segments, for example - industrial manufacturing, commercial, municipal applications, greenhouses and many more.
Cogeneration.  Our Jenbacher gas engines work efficiently in cogeneration schemes. Cogeneration, or CHP, is simultaneous production of heat and power (in addition to efficient electricity production, Jenbacher CHP systems convert the waste heat created during an engine's operation into useful hot-water or steam). It is usually more efficient compared to separate production at electrical power plants and boiler houses. Cogeneration solutions based on Jenbacher engines work with a total efficiency of up to 95%, maximizing conversion of gas energy into useful power. As a result, it helps your microgrid with CHP solution to be more efficient and decrease your carbon footprint.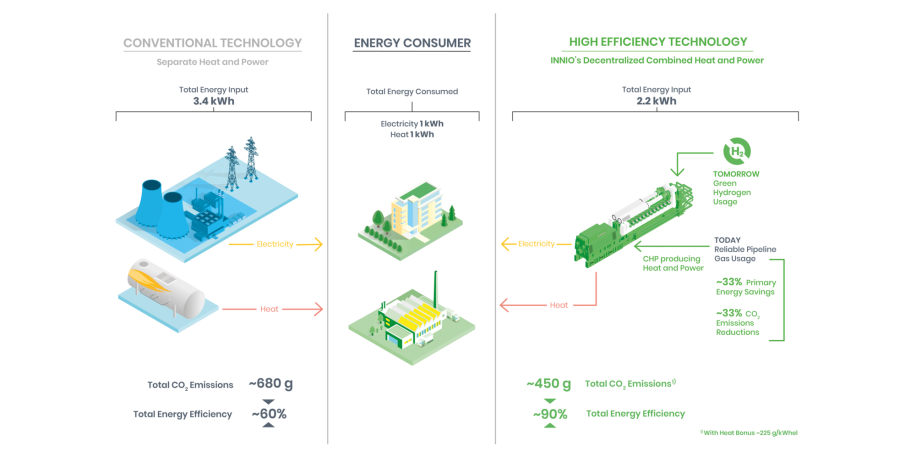 Trigeneration.  Depending on your needs, you might want to consider using combined cooling, heat, and power (CCHP) systems, also called trigeneration systems. Such system is a combination of cogeneration plant and absorption chillers. Jenbacher engines offer an efficient solution for generating air conditioning and/or refrigeration. Cogeneration equipment offers high efficiency and low emissions. Absorption chillers provide an economic and environmental alternative to conventional refrigeration with compression chillers. Combining those two elements enables excellent total fuel efficiency, elimination of HCFC/CFC refrigerants, and reduces emissions.
The right solution for your energy source
Renewable gases. Our engines do not only run efficiently on pipeline gas. They also work with biogas, landfill gas, sewage gas and other gases, helping customers to achieve their environmental targets.


Hydrogen. Jenbacher is Ready for H2 - having launched the first hydrogen-powered engine years ago. Our Jenbacher engines can run on a mixture of gas and hydrogen as well as on pure hydrogen. Most of the already installed engines, which run on natural and other gases, can be converted to run on a hydrogen.
*In general, "Ready for H2" Jenbacher units can be converted to operate on up to 100% hydrogen in the future. Details on the cost and timeline for a future conversion may vary and need to be clarified individually.
Flexible and scalable integrated solutions
Jenbacher can work on new microgrid projects or projects dedicated to modernizing existing microgrids.
Flexibility is the key for integration purposes. Therefore, Jenbacher solutions can be supplied as modules for installation inside a building or as integrated solutions: containerized power generation or cogeneration/trigeneration solutions.
Jenbacher containers are available for Type 2, 3, 4 and 6 engines. Based on the expertise gained in several decades with over 3,000 containerized units delivered, our genset containers offer optimal performance in various site conditions. By applying the same high-quality standards to the complete package as to the engine, our containerized solutions ensure excellent reliability for your power and heat generation needs.
Jenbacher containerized solutions offer a variety of benefits to our customers, thanks to distinctive product features:
 Product features
Pre-installed package complete with auxiliary systems

Compact footprint

All components perfectly matched and tuned to the specific site requirements
Customer benefits
Quick and easy site installation; less installation work to coordinate on site

Less space consumed on site

Optimal genset performance ensured by OEM
Learn more about Jenbacher containerized solutions: https://www.jenbacher.com/en/energy-solutions/containerized-solutions 
OUR EXPERTS ARE READY TO HELP YOU
Whether your business is looking for onsite power solutions, access to electricity, decreased energy costs, or even to sell electricity back to your local grid/consumers, Jenbacher´s regional experts can advise you on which solution makes the most sense for you.
Get in touch for free consultation on the following:
The benefits of onsite power generation solutions for your company
Potential financial benefits using economic modeling
Consultation on the technical side of your project - fuel types, feasibility studies, equipment and balance of plant selection, and more
Regional incentive programs relevant to your business
Options to deliver your project: purchasing, financing and leasing, engaging a service provider (ESCO, BOO etc.)
How to meet emissions targets
Fill-in contact form, or send us an email contact.en@innio.com.
Send us a message and we'll contact you to start the conversation.
Whether your business is looking for onsite power solutions, access to electricity, decreased energy costs, or even to sell electricity back to your local grid/consumers, Jenbacher regional experts can advise you on which solution makes the most sense for you.
CONTACT US