Oil & Gas
Achieve efficient power in all your oil & gas processes.
In today's ever-changing landscape of oil and natural gas operations, economic efficiency and environmental protection are paramount. Jenbacher technologies provide reliable, efficient, environmentally cleaner power generation in a full range of mobile and stationary applications. Our distributed power packages can be found onshore, offshore, and in the most remote corners of the world, powering operations upstream, midstream, and downstream.
Power generation for oilfields
Jenbacher oilfield generators help oil and gas companies supply efficient power for their processes, from production to transportation to processing. And our power plants are fuel flexible. They work on oilfield gas direct from the ground, transported liquefied natural gas (LNG), associated petroleum gas or flare gas, and synthetic gases—converting them all to useful energy. Whatever your energy supply challenges, contact us for solutions that can meet your specific needs.
Associated petroleum gas operations
Natural gas from oil wells, called associated petroleum gas (APG) or flare gas, can exist separately from oil in its formation (free gas) or can be dissolved in crude oil. Once separated from crude oil, it commonly exists in mixtures with other hydrocarbons (HCs) such as ethane, propane, butane, and pentanes.
Our flare gas power generation technologies operate in a wide range of climatic conditions, from scorching heat to extremely low temperatures in arctic latitudes. These compact solutions can be delivered as ready-to-use containerized power plants—meaning significantly reduced commissioning time for new field facilities—and they can be used as mobile power solutions for multiple oilfields.
With our efficient use of natural and waste gases, INNIO helps oil and gas companies reduce emissions levels. Moreover, Jenbacher engines can run on hydrogen-natural gas mixtures or pure hydrogen, allowing you to further reduce your carbon footprint as hydrogen becomes more readily available and achieve environmental targets.
Upstream Processes
Jenbacher engines are widely used to supply power to oil and gas fields, which often are located far from energy infrastructure and/or in energy-deficient areas. In such cases, Jenbacher engines can operate as flare gas generators, efficiently converting APG of various qualities directly to power and heat. Putting this often-flared gas to use lets you reduce your carbon footprint while supplying inexpensive energy to the oilfield. Moreover, if needed, you can generate power for sale to the external public grid.
APG is an efficient and cheaper alternative than using an external power supply, including diesel. In the past, diesel gensets often were used for power generation at oil fields, but that solution is becoming less financially viable as the cost of both diesel fuel and its storage increases. As flare gas is already available on site, the oil byproduct can easily replace diesel as an energy source for onsite power generation.
In addition, the specific CO2 footprint of APG is approximately 30% lower than diesel. Therefore, using APG as an energy source also reduces the CO2 emissions that otherwise might result from diesel fuel consumption or from previous venting or flaring practices.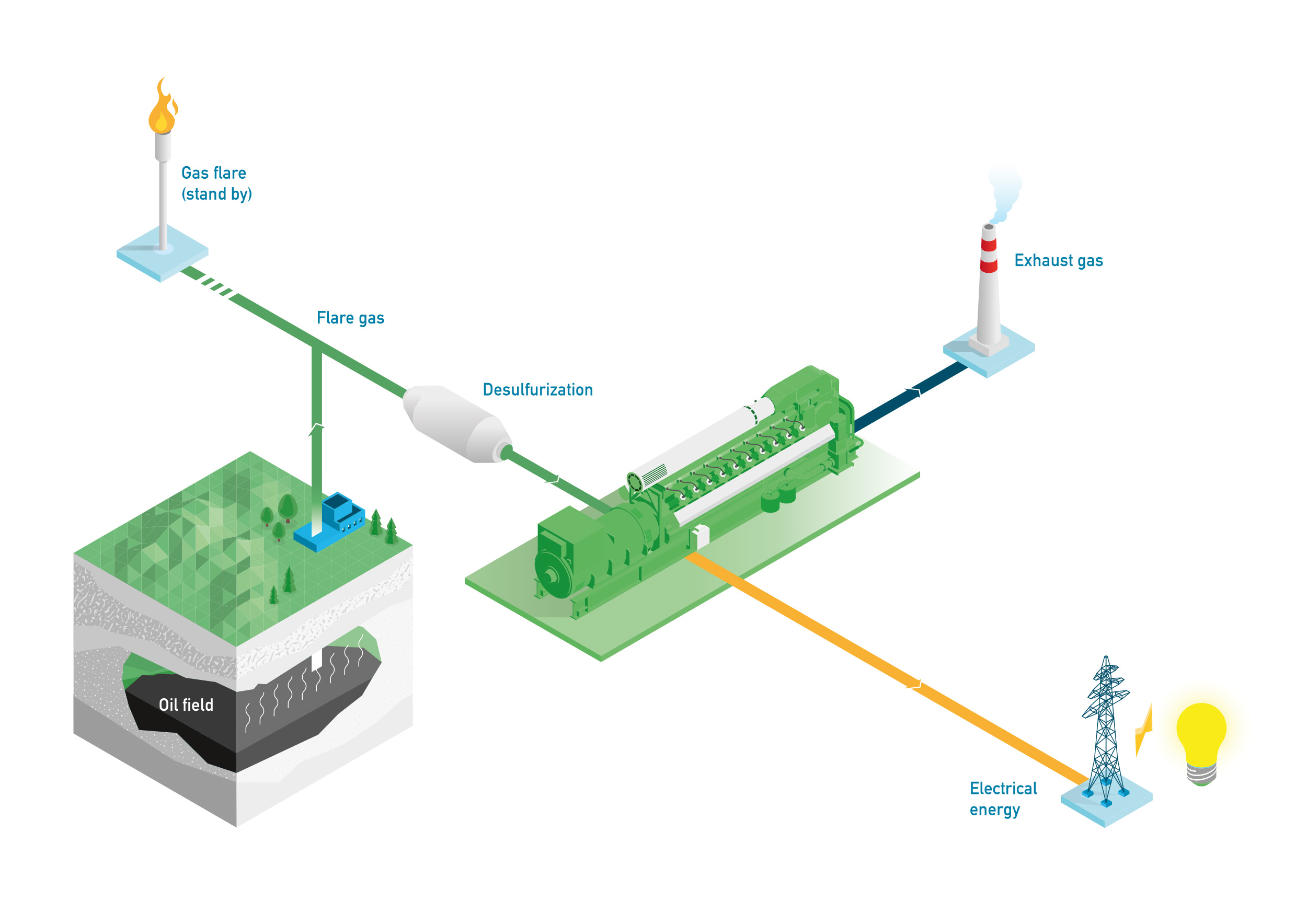 Jenbacher engines can be packaged into ready-to-use standard containers. In addition, Jenbacher engines efficiently run on liquid natural gas (LNG), compressed natural gas (CNG), and propane fuels. These types of fuel can be delivered using mobile trucks, further improving the mobility of Jenbacher-based power generation solutions.


Midstream and Downstream Processes
INNIO's solutions can provide energy for electric compressors and pumps to gather oil and gas at the fields or transport it via pipelines. Our power solutions also are widely used at oil and gas refineries, where the engines run efficiently using natural gas or synthetic gases (syngas) for power and heat generation.
Benefits

Operate reliably even in harsh and remote conditions with our rugged and durable design

Operate flexibly with either mobile or stationary applications

Enjoy quick installation with our "plug and play" solution

Cut your costs and emissions through the straight-forward substitution of diesel power generation with APG or flare gas

Reduce your operating costs with field gas, which cuts operating costs by up to 80% compared to diesel or dual-fuel operation

Take advantage of fuel flexibility with the ability to operate on a wide range of gas fuel quality, including high-BTU field gas (up to 1654 BTU HHV), HD-5 propane, and ethane, without knock

Advance your environmental goals with catalyst systems that further reduce emission levels

Convert flare gases into energy to supply power and heat to oilfield infrastructure

Achieve high electrical efficiency of up to 44% in simple cycle operation
OUR EXPERTS ARE READY TO HELP YOU
Whether your business is looking for onsite power solutions, access to electricity, decreased energy costs, or even to sell electricity back to your local grid/consumers, Jenbacher´s regional experts can advise you on which solution makes the most sense for you.
Get in touch for free consultation on the following:
The benefits of onsite power generation solutions for your company
Potential financial benefits using economic modeling
Consultation on the technical side of your project - fuel types, feasibility studies, equipment and balance of plant selection, and more
Regional incentive programs relevant to your business
Options to deliver your project: purchasing, financing and leasing, engaging a service provider (ESCO, BOO etc.)
How to meet emissions targets
Fill-in contact form, or send us an email contact.en@innio.com.
Send us a message and we'll contact you to start the conversation.
Whether your business is looking for onsite power solutions, access to electricity, decreased energy costs, or even to sell electricity back to your local grid/consumers, Jenbacher regional experts can advise you on which solution makes the most sense for you.
CONTACT US