Food & Beverage market leaders and small private companies across the continent use the advantages of onsite power generation centered on Jenbacher gas engines. Such reliable onsite power solutions help to reduce operating costs, convert organic waste to energy, and as a result, help companies be more sustainable and competitive.
If you produce or process soft drinks, beer, dairy products, chocolate, flour products or something else, most likely, you use electricity and heat in production, and with a high degree of probability, you generate waste that can be converted into biogas.
Jenbacher produces innovative onsite power generation solutions for applications from 250 kW to 200 MW. Our experts are ready to consult you on how Jenbacher gas engines can help in your specific case, whether your waste can be converted into biogas, and what is required to do so. We help customers to calculate the loads, select necessary equipment, with flexible operations, and calculate economic models for your potential project.
Jenbacher Cogeneration or CHP (Combined Heat and Power) solutions are designed to generate both heat and power, especially for food and beverage applications, helping to decrease operational expenses and improve manufacturing processes.
How it works
Simultaneous production of heat and power at the point of use is usually more efficient versus separate production at electrical power plants and boiler houses. Cogeneration solutions based on Jenbacher engines work with total efficiency up to 90% and more, maximizing benefits for your business.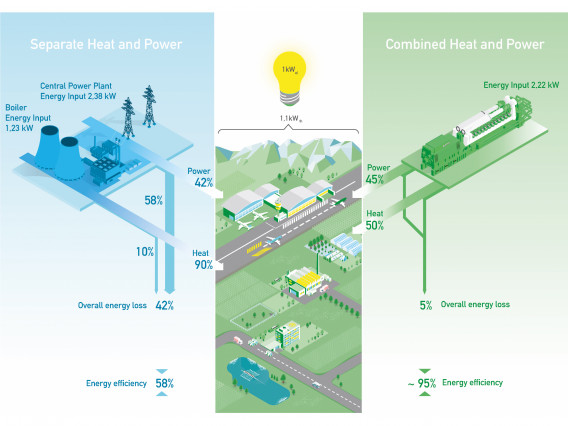 Cogeneration process at a glance: in addition to efficient electricity production, Jenbacher CHP systems convert the waste heat created during an engine's operation into useful hot water or steam, that can generate total CHP plant efficiencies of more than 90%. This efficient and economical method of energy conversion achieves primary energy savings of roughly 40% by using a gas engine cogeneration system instead of separate power and heat generation equipment. Transportation and distribution losses also are reduced or eliminated as the decentralized energy supply is deployed where it is needed.
*Based on IEA '16 electricity production figures for EU-28 and EIA '17 average power plant heat rate references
Why Onsite Cogeneration?
Jenbacher CHP solutions are used by our food & beverage customers across the globe, powering applications in a wide variety of segments, for example – production of cold beverages, alcoholic drinks, chocolate, milk products, flour products, and many more.
Jenbacher onsite cogeneration solutions can help your company to achieve economic targets thanks to one or several of factors, such as:
Decrease of energy - related operational expenses compared to centralized energy sources or;
Launch or extend company operation due to access to new power generation in energy - deficit areas or;
Minimize downtime, thanks to improved quality of the electricity supply in the regions with unstable grid infrastructure or;
Convert waste produced by your operations into power or;
Decrease your company's carbon footprint, helping to meet your environmental commitments, and much more.
Tailor-made solutions for your operations:
The basic structure of Jenbacher CHP systems includes a gas engine/gas generator unit and heat exchangers that use waste heat. A wide range of heat sources—from gas engine cooling water and oil to an air/fuel gas mixture and exhaust gas—is configured to give each individual customer the greatest possible benefit.
Jenbacher CHP modules can be installed either inside buildings or packaged into ready–to-use containerized CHP solutions. Containerized cogeneration power plants allow our food and beverage customers to start using the benefits of onsite power generation quickly. Our cogeneration plant solutions deliver flexible power generation and a high degree of reliability and availability.
Exhaust heat from the engine can be converted into hot water, steam, and other types of process heat. Jenbacher solutions can be efficiently integrated with your current energy equipment.
If needed, produced heat can be converted to cold with use of absorption chillers, which results in an efficient solution for generating air conditioning and/or refrigeration.
Moreover, a power plant's exhaust gases can be used to produce clean CO2 for your operations (e.g. to add to your sparkling beverages).
As an option, cogeneration solutions can be supplemented with a peak boiler system for bridging peak heat demand periods. The connection of a heat storage medium makes it possible to increase system operating time and efficiency.
Jenbacher onsite CHP solution can work in baseload, mid-merit and peak shaving regimes, and you can modify these regimes depending on your needs.
Cogeneration power plant electrical switch and control systems distribute electricity and manage the engine, while hydraulic equipment ensures heat distribution. Generated power can be used by a facility, and excesses of electricity can be fed into the public power grid.
Jenbacher solutions efficiently work in both island mode and grid - parallel mode depending on your requirements.
Convert your operations organic waste to energy
Jenbacher works not only on natural gas, but on a wide variety of gases including biogas. In many cases, waste of your manufacturing could be fermented to produce biogas and this biogas can be used in our engines. In addition to efficient cogeneration using biogas, it also could help your company to meet environmental targets.
Our engines can work on a biogas – natural gas mix. Moreover, in many cases, with use of additional equipment, it is possible to switch periodically between biogas and natural gas.
Reach out to our experts, to know how Jenbacher solutions could help your business.
Features & Benefits

Decrease of your company's OPEX.
Fast access to reliable source of power.
Cogeneration systems generate both heat and power.
INNIO's cogeneration gas gensets are designed to maximize electrical and overall efficiency: yielding 48% electrical efficiency and combined heat and power efficiency up to 90%.
Generally, 40% more energy is saved vs. separate power and heat generation equipment.
Cogeneration reduces or eliminates transportation and distribution losses.
Generated power is used by an individual facility or fed into a public power grid.
Full power is achieved within 10 minutes.
Thermal energy can be used to generate heating water and steam production, as well as for various types of process heat.
Designs are lightweight, compact and modular.
Efficient combined production of power, heat and cold (trigeneration), by integrating CHP solutions with absorption chillers.
Production of clean CO2 for a company's operational processes.
Convert your waste into biogas and use it to fuel your power plant and to decrease your carbon footprint.
Experience our webinar to learn more about Jenbacher's solutions for Food & Beverage companies
These days everyone is talking about sustainable energy. But actions speak louder than words. Using biogas from the fermentation of organic waste in agriculture, food and beverage production, and other industries, you can efficiently create heat and power as a reliable alternative energy source to power your food & beverage business today, tomorrow and in the future.
Jenbacher gas engines provide cogeneration that enables you to realize the maximum economic and ecological benefits of using biogas for power generation. Jenbacher has delivered more than 6,000 biogas engines that can generate a total electrical output of green energy of approximately 5.5 GW.
Our team invites you to review the recording of our recent webinar, to learn how Jenbacher can help you develop your power plant projects, including equipment design and performance, using hydrogen and much more!
In the webinar, you will learn more about:
How F&B companies can harness the power of CHP?
How F&B companies can save money and reduce dependency on the grid with CHP?
Learn how major F&B companies use Jenbacher technology to cut costs and increase yield.
Find out how Jenbacher experts can support my project with consultation, plant sizing and layout, BOP, installation know-how and life-time service.
OUR EXPERTS ARE READY TO HELP YOU
Whether your business is looking for onsite power solutions, access to electricity, decreased energy costs, or even to sell electricity back to your local grid/consumers, Jenbacher´s regional experts can advise you on which solution makes the most sense for you.
Get in touch for free consultation on the following:
The benefits of onsite power generation solutions for your company
Potential financial benefits using economic modeling
Consultation on the technical side of your project - fuel types, feasibility studies, equipment and balance of plant selection, and more
Regional incentive programs relevant to your business
Options to deliver your project: purchasing, financing and leasing, engaging a service provider (ESCO, BOO etc.)
How to meet emissions targets
Fill-in contact form, or send us an email contact.en@innio.com.
Send us a message and we'll contact you to start the conversation.
Whether your business is looking for onsite power solutions, access to electricity, decreased energy costs, or even to sell electricity back to your local grid/consumers, Jenbacher regional experts can advise you on which solution makes the most sense for you.
CONTACT US