Data Centers
You have important data. We do, too.
Why choose INNIO to power your data center?
Your data center needs more energy than ever before, but the push for wind, solar, and other renewable electricity generation can lead to instability in the electric grid.
Fortunately, INNIO has a solution. Our gas engine power plants offer fast starts, fuel flexibility—and cleaner onsite power generation.
That´s why more and more data center operators and owners are turning to the experts at INNIO.
Our Energy and Emissions Solution – Gas Engines for Data Centers
With significantly lower emissions and the option of longer run times—compared to standby diesel-fueled generators—INNIO's 3 MW J620 fast-start natural gas generators can deliver highly efficient and cost-effective electricity when and where you need it. In addition, they can provide benefits to the electric grid, allowing participation in demand response, curtailable tariffs and emergency standby activities, all while avoiding peak charges.
It's no wonder, then, that INNIO's J620 natural gas generators are gaining traction with data center and grid operators around the globe. In fact, INNIO has already delivered many of our easy-to-install, containerized, and integrated J620 package solutions worldwide.
INNIO´s hydrogen powergen solutions for data centers
With more than 50 years of experience and expertise in the conversion of alternative fuels into electricity, INNIO's data center solutions that use hydrogen can replace the need for fossil fueled backup power.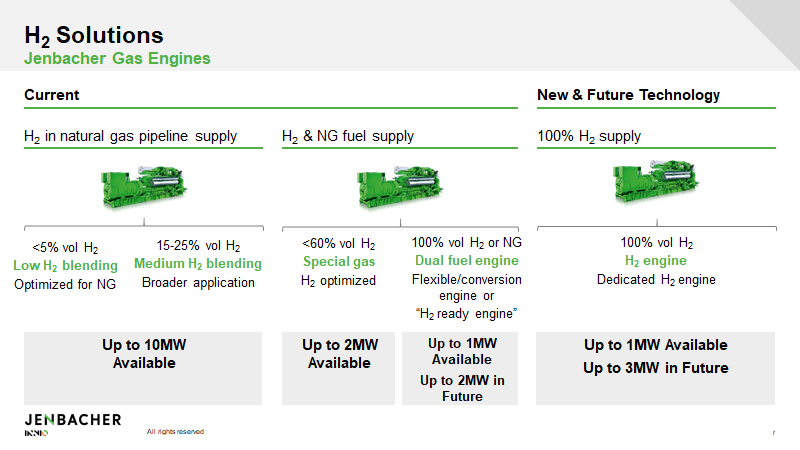 Dual fuel – Hydrogen & Natural Gas
2 options now available:
H2 blended up to 60 Vol% H2, up to 2 MW
Flexible fuel to 100% H2, up to 1 MW
100% Hydrogen, 1 MW
Available 
Zero carbon emissions with green H2
>95% NOx reduction compared to Tier 2 Diesel
How can our onsite gas generators benefit your data center? 
INNIO's regional experts can advise you on the solution that best fits your needs—whether your business is looking for onsite power solutions, access to electricity, an offset for OPEX costs, or a way to sell electricity back to your local grid/consumers. Talk to our experts to find out how INNIO can help you:
Meet emissions targets
Understand and unlock the benefits of our onsite power generation solutions
Recognize and reap the financial benefits of economic modeling
Take advantage of any regional incentive programs relevant to your business
Boost project success with our consultation services, including: technical consulting, purchasing, financing, leasing, and engaging with utilities and service providers 
Interested in our solutions?
Lower emissions with a path to zero carbon emissions
Natural gas, fast start backup power, 1.5 MW to 3.3 MW


25% CO2 reduction compared to Tier 2 diesel engine
90% NOx reduction compared to Tier 2 diesel engine
NOx can be a limiting factor for DC campus permitting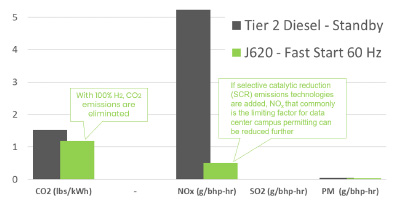 An energy insurance policy that can be monetized
Offset your long-term data center OPEX
Provide leverage and solutions with your dispatchable, behind-the-meter asset for:


Energy markets
Capacity markets
Demand response
Grid balancing benefits
Intermittent renewable generation additions

Island away from the electricity grid
Parallel or provide electricity to the electricity grid
Fast start delivers during transitions from battery/UPS
Fast-start: reach full electrical load, 1.5 MW to 3.3 MW in less than 45 seconds
Maintain high quality power with fast transient response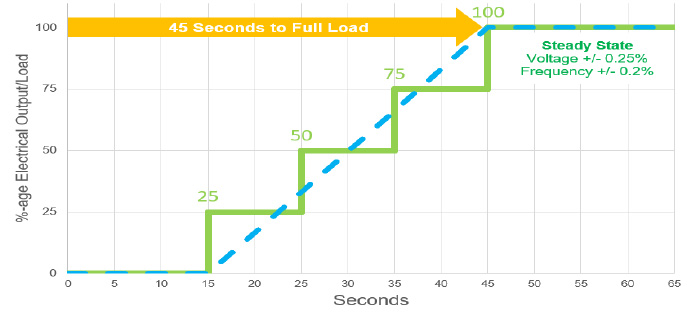 Excellent reliability means better performance with less risk
Robust, highly reliable infrastructure with below-ground natural gas grid
Significantly reduced risk of run time limitations and refueling with built-in storage for natural gas grid
Low probability of correlated failure of natural gas and electric grids
Proven technology: 64,000+ INNIO gas engines installed globally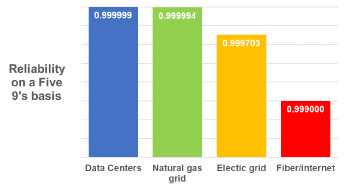 With proven benefits:
Direct delivery. We can ship our containerized genset solutions directly to your data center site.
Easy installation. Our modular and scalable solutions make for faster, easier installation.
Fully tested. Our containerized genset is tested at the factory prior to shipping.
Trusted expertise. Our team has gained significant installation and commissioning experience at hyper-scale data centers around the globe.
Life cycle services. As the original equipment manufacturer (OEM) of our engines—produced in EMEA and North America—we provide full life cycle services that you can trust.