Greenhouses
Energy, it's in our nature.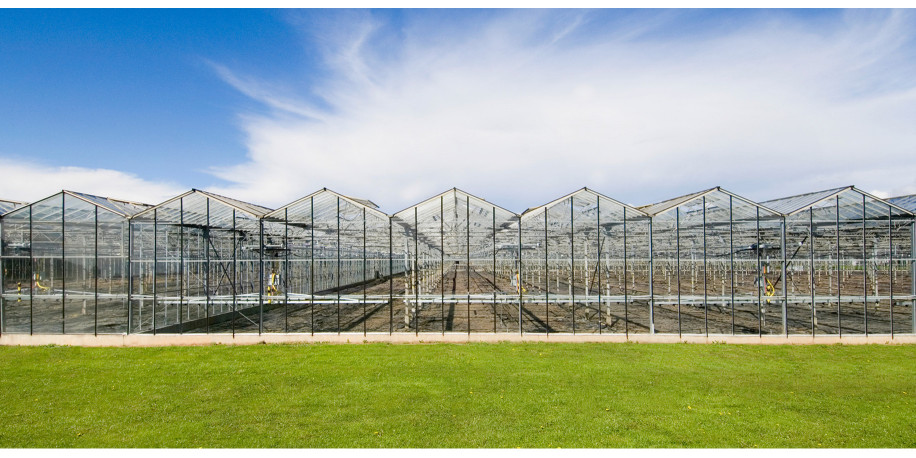 Jenbacher products are fueling life itself, in greenhouses growing food and other plants. The benefits of cogeneration for greenhouses go well beyond heating and lighting. Implementing combined heat and power (CHP) systems with Jenbacher gas engines, you can efficiently power greenhouses and use the CO2 engine exhaust to fertilize the plants—a truly green solution. You can even earn additional revenue by routing excess power to the local utility grid.
Jenbacher engines widely used in North American greenhouses to improve production of vegetables and other crops.
It is no secret that plants require their own constant climate, supplementary lighting and CO2 fertilization for effective growth. All of these components for an efficient greenhouse can be obtained from a Jenbacher power plant.
Combined production of heat and power, near the greenhouse (at the point of use) is usually more efficient vs. separate production at electrical power plants and boiler houses. Jenbacher cogeneration solutions work with efficiency up to 90% and more, helping your greenhouse to decrease operational expenses, have a stable power supply or get access to power in a quite short term.
Tailor-made solution for your greenhouse:
The basic structure of Jenbacher CHP systems includes a gas engine/gas generator unit and heat exchangers that use waste heat. A wide range of heat sources—from gas engine cooling water and oil to an air/fuel gas mixture and exhaust gas—is configured to give each individual customer the greatest possible benefit.
Jenbacher CHP modules can be installed inside buildings or packaged into ready-to-use containerized CHP solutions. Containerized cogeneration power plants allow our customers to start using the benefits of onsite power generation quickly. Our cogeneration plant solutions deliver flexible power generation and a high degree of reliability and availability.
Benefits
Reduction of operating costs by implementing a combined heat and power system
Containerized, ready-to-use solutions, dedicated turn-key solutions for greenhouses
Potential to earn additional revenue supplying excess power to the public utility grid
Possibility to capture engine exhaust CO2 and use it as high-quality plant fertilizer
Ability to store CO2 and heat for a time-independent supply
Minimized footprint with compact design
Yield overall efficiency as high as 95%
CONTACT US
Whether you're looking for onsite power solutions for your business, to get access to energy, to decrease your energy costs, or even sell energy back to your local grid/consumers, the Jenbacher's regional experts can advise you on which solution makes the most sense for your company.
Get in touch for free consultation on the following:
Benefits of onsite power generation solutions for your company
Potential financial benefits with economic modeling
Consult on the technical side of your project - fuel types, feasibility study, equipment and balance of plant selection, etc.
Regional incentive programs relevant to your business
Options to deliver your project: purchasing, financing (e.g. leasing), engaging service provider (ESCO, BOO, etc.)
Meeting emissions targets
Fill-in contact form, or send us an email contact.en@innio.com
Featured Project
AMCO Produce (ON, Canada)

Combined heat and power system fully fuels greenhouse operations

Location

Leamington, Ontario, Canada

Industry

Application

Jenbacher equipment

Fuel type

Power output

Commissioned

AMCO Produce (ON, Canada)