Wolf Run, IMG Energy Solutions (PA, USA)
Jenbacher modular solution an excellent fit for Pennsylvania IPP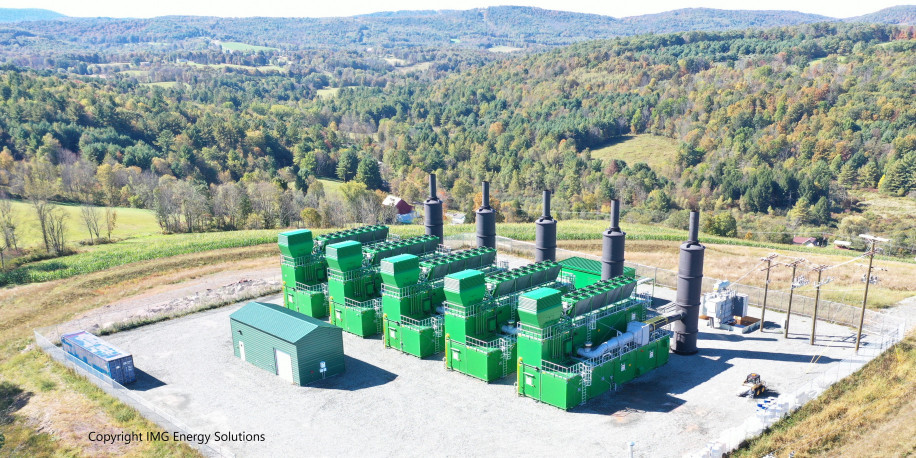 Background
As an Independent Power Producer, IMG Energy Solutions develops, constructs, and operates distributed power generation assets that are located near natural gas production. It then sells the produced power into the PJM regional transmission organization. Headquartered in Pennsylvania USA, PJM is one of the world's largest competitive wholesale electricity markets.
Solution
IMG Energy Solutions' Wolf Run project is located in Wilmont Township in Bradford County, PA, and consists of five containerized 4.2MW JGC624 J01s from INNIO Jenbacher for a total of 21MWs. Working with INNIO Jenbacher's official distributor Northeast Energy Systems, IMG Energy Solutions commissioned the Wolf Run project in 2019. The project provides power generation during peak electricity demand hours and operates approximately 5,000 hours per year.
Results
Wolf Run was installed on schedule and on budget due in part to the predictable nature of the pre-engineered, pre-assembled, modular building blocks of Jenbacher's "containerized" solution. The project allows IMG to sell power into the wholesale market and benefit from the Jenbacher engines' highly flexible operation, ability to start and stop whenever needed and to reach full power output in several minutes.
Advantages of Jenbacher J624 technology
High electrical efficiency
Low fuel consumption for reduced operating costs
Flexible and modular design for transportation and installation ease
Startup in less than 10 minutes
Location
Bradford County, Pennsylvania, USA
Industry
IPPs, Utilities and Peaking Power
Application
Jenbacher equipment
5 containerized Jenbacher JGC 624 gas engines
Fuel type
Power output
Commissioned